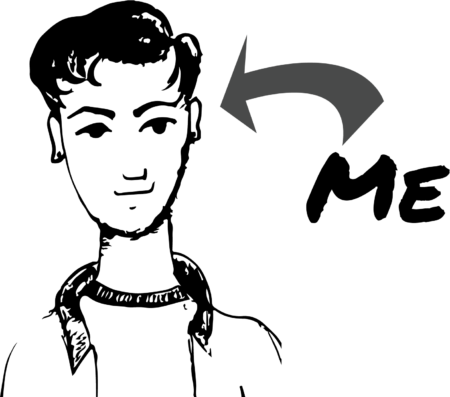 My name is Cory Timmons. I'm a fifth generation Oregonian. I'm married, have two herding dogs and a tuxedo cat.
I'm pretty much always smiling. I feel strongly that you don't have to be serious to be successful. I've found that having a playful disposition toward life makes it much more enjoyable. There's no sense in being a bad mood all the time. I laugh (cackle, more like) every day, and try to make others laugh, too.
One of my favorite things is search through the cast aside, forgotten treasures at thrift stores. I certainly don't always find something, but when I do, it's usually a gem. Or a Jem. Because that happened once. One-of-a-kind finds, that's what I'm after.
In spring and summer you'll find me with my husband working in the yard at our home in the city. In the winter, I spend my time in the studio painting, sewing, or working on digital art. I'm a passionate photographer, print maker, painter, and professional. Oh, and did I mention I like tumbling rocks?
My work history
I'm currently studying Visual Communications and Design with a Minor in Writing at Western Oregon University, with an expected graduation in 2019. I'm  working part-time while in school so I can focus on completing my education. Below is a summary of my work history, roles, and responsibilities to date. For additional details, please contact me for a copy of my complete resume. 
Administrative Assistant
Aug 2017 – Present

Updates content for WordPress website for internal audience
Performs administrative and record-keeping duties
Creates brand assets and marketing materials
Designs training manuals, brochures, and documents

Instructional Design Associate Consultant
Jan 2016 – Sept 2017

Assessed internal customer needs to identify project goals and propose solutions
Maintained brand, legal, and retention standards on all materials created
Kept up-to-date on industry trends and regulatory changes
Completes 10-20 concurrent projects by creating project timelines and determining milestones
Builds and updates websites (like this one) using a content management system
Reviews peers work for adherence to quality assurance standards and content clarity
Collaborates with project managers and subject matter experts to build content

Administrative Assistant III
March 2014 – Jan 2016

Created high-level executive summaries, statistical reports, policies, and procedures
Served as point of contact for internal and external customers, vendors, and regulators
Handled confidential and proprietary information with discretion and care
Consulted with leadership to solve business problems in management strategy meetings
Coordinated onsite and off-site meeting logistics including materials, scheduling, and facilities
Conducted research, analyzed survey of employee retention, and suggested interventions

Business Training Consultant III
May 2008 – March 2014

Facilitated two-month long, blended classroom customer service classes
Coordinated course logistics, new hire identification, paperwork, and building security
Created tools to help trainers and managers monitor and communicate about learner progress
Tracked trends in learner outcomes to identify curriculum modifications
Scheduled and registered learners for classes
Conducted qualitative surveys to establish data to determine baseline for future comparison

Team Support Leader
April 2007 – May 2008

Performed panel-based behavioral interviews to hire new employees
Resolved escalated technical issues by identifying root cause
Supported employees in using customer service skills by coaching them through tough situations
Designed and developed new hire training and on-boarding
Software and skills
| | | | |
| --- | --- | --- | --- |
| Word | PowerPoint | Excel | WordPress |
| Illustrator | Photoshop | InDesign | Captivate |
| Presenter | Photography | Audio | Video |
If you think my skills match your needs, please contact me and let's discuss possibilities.