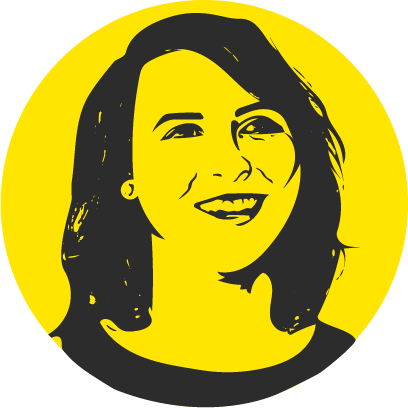 I'm an artist and designer whose eclectic, analytical, problem-solving approach to design produces attention-grabbing, functional systems.
You can think of me as a Jane-of-all-trades. With experience in instructional design, video and animation, web design, and print, I can use the best media for any project.
A writer at heart, I process my thoughts pen-to-paper, creating connections with the broader world. My work draws from pop culture, social justice, public policy, and crossing the gender line.
My vision for the future is of a society where we have individual freedom of self-expression while maintaining a collective responsibility to our planet and all the people in it.
I revel in the delight of removing wallpaper, battling fiends in Final Fantasy, laughing maniacally to crass novels, mowing dandelions, and eating chocolate cake. If you bump into me at the thrift store shopping for materials, be sure to say hi, or drop me a line.
My work history
I'm happy to be in a position that allows me to use my art, design, and writing skills to make the world a better place. I'm not looking for work at this time. If you think we could collaborate on artwork, storytelling, or social change, please contact me. Friends are nice, too.
Below is a summary of my work history, roles, and responsibilities to date. For additional details, please contact me for a copy of my complete resume.
Experience
eLearning Developer
Sep 2019 – Present

Designs multimedia, online, distance learning for social workers
Collaborates with policy experts, leadership, and staff to create training modules
Manages complex projects with short deadlines through careful planning
Supports implementation of new training approaches in department

Creative Assistant
Aug 2017 – Present

Produces employee training videos, manuals, and reference materials
Creates brand assets and graphics for marketing collateral
Creates and updates content for WordPress website

Poster designer
Aug 2017 – Present

Collaborates with musicians and conductors to develop designs for music posters
Maintains University branding while creating distinctive visuals to advertise each event
Manages multiple projects simultaneously with minimal oversight

Instructional Design Associate Consultant
Jan 2016 – Sept 2017

Designed and developed eLearning courses using Adobe eLearning suite
Conducted needs analysis on complex training programs
Maintained over 50 websites, serving an audience of more than 20,000 employees
Handles 10-20 concurrent projects by creating project plans and adhering to deadlines
Collaborated with a team of designers to digitize printed materials to save resources
Worked directly with subject matter experts, senior managers, and peers on projects
Measured and assessed training results using qualitative and quantitative data
Maintained brand, legal, and file retention requirements on all materials created

Administrative Assistant III
March 2014 – Jan 2016

Wrote executive summaries, statistical reports, policies, and procedures
Designed an attrition program that reduced attrition by 10%, saving $500,000 annually
Conducted research on management concerns and suggested interventions

Business Training Consultant
May 2008 – March 2014

Facilitated complex training programs over multiple weeks in multiple business lines
Re-designed courses to enhance effectiveness by tracking trends in learner performance
Conducted surveys, focus groups, and skills practices to establish qualitative data
Coordinated with business leaders to align training with company priorities
Designed and developed a local mentorship program that resulted in multiple promotions

Team Support Leader
April 2007 – May 2008

Performed panel-based behavioral interviews to hire new employees
Resolved escalated technical issues by identifying root cause
Supported employees in using customer service skills by coaching them through tough situations
Designed and developed new hire training and on-boarding
Education
Bachelor of Science
Western Oregon University June 2019

Major: Art and Design Minor: Writing

Focus: graphic design, interactive media, video, web design, technical and creative writing
Software and skills
| | | | |
| --- | --- | --- | --- |
| Word | PowerPoint | Excel | WordPress |
| Illustrator | Photoshop | InDesign | Captivate |
| Storyline | Photography | Audio | Video |
Contact me
If you think we could work together to make change (or if you want to be friends), please email me.