Smart dogs are like smart humans: they value autonomy.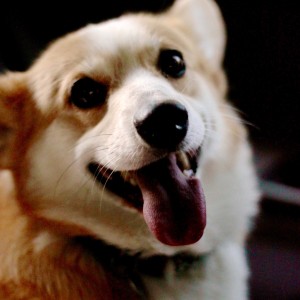 Corgis are the eleventh smartest breed, according to Coren, at least. (Here's a link if you don't believe me: http://bit.ly/1kSEtGE)
What was I thinking getting a dog smarter than me? She's a sweet girl and she really surprises me by how quickly she picks things up. It's important to note, however, that's she's a bit bossy. It's only when it's on her terms. "Don't bore me with that right now. I don't feel like it."
This was an attitude that always frustrated me as a course facilitator. My course participants would express this sentiment on the daily. It's because as animals we value autonomy. We want to do what we want to do when we want to do it. So does Martha. It's all about capitalizing on the moment she's most receptive and adapting to the mood that she's in. The same thing is true as a facilitator. One has to learn how to be prepared for all sorts of activities throughout the day to keep participants engaged.
Creating autonomy as a designer.
As a designer, consider the I don't wanna mindset and encourage yourself to consider different approaches for the same module. Give the trainer or learner a few different options for learning, instead of a singular approach. Certainly, variety should already exist in a training curriculum, as cognitive load really sets a limit on the type of learning a participant can perform. What is much less common, is a variety of options for deploying the same module, giving a trainer the ultimate freedom in delivery choice. Trust the trainer. They're in front of the class and they know what they're doing. They value autonomy as much as the participants!
Ideas for creating autonomy:
Design materials as smaller modules in different modalities

Create on-the-job scenarios that simulate the full range of abilities

Prepare additional simulations for accelerated students

Provide alternative delivery methods for the same content
Maintaining focus.
The reality is that Martha can't seem to focus on learning new tricks when she's distracted by everything else going on in her world. Whether it's another animal getting attention, the door slamming next door, the food in your hand, there's always something in the way. It's the same for classroom participants.
Resist it if you must, but new technology is here to stay, and that means interruptions.
For a participant in the classroom, it's just a different kind distraction. It could be a combination of the interruptions from people surrounding them, situations from their personal life, or even the fear of failure. For those coming back into the classroom for up-training, the work outside the classroom is just piling up. For newbies, it's more the expectation to pick up everything or be canned. Additionally, many participants are being constantly bombarded by notifications, on personal devices outside of the designers control and other reminders of the real world outside the classroom setting.
Eliminating some of those distractions helps break down the barrier to learning. And that's ultimately a designers job. Adult learning theory has long suggested the idea of chunking. This fits really well with these problems. Chunk the material and give participants lots of breaks. In the end, the results will be much better. It goes great with Stephen Covey's seventh habit, and my personal favorite: Sharpen the Saw. You have a few minutes every hour to renew your energy. You just aren't taking that time for yourself.
Consistent practice is key
This is one of the biggest lessons: use it or lose it. It's a common phrase, I know. But it's so true. One of our dogs suffered this fate a bit. He had forgotten some of the tricks that he'd learned in the past. But after a little practice, they're all back. Sure, Mike had to "re-train" him, but he picked it back up quickly. But what would happen if he didn't keep practicing? You can guess based on past results. Use it or lose it, right?
It seems that training is seen as a one time event. But, that can't be possible or realistic. Ideally, training should be ongoing. Just like Martha and Big Boy, employees need to practice some tricks frequently to keep the skills alive. Engage the managers, support staff, and peer employee groups to ensure consistent reinforcement is occurring.
Building a discovery new hire orientation program

Create a training program that's designed for discovery. Teach the foundations, company values, business unit goals and send new hires out to experience the field first hand. This isn't a "throw them to the wolves" situation. Quite the opposite. For a new employee, it allows them to assess what they truly already know, what they feel intimidated by, and how they feel training should go.

Then, bring them back to the classroom and begin the real "training." The course will be much better guided by participants motivation to learn, because they'll already have an immediate application.